Tech Trek is a week-long science, technology, engineering, and mathematics (STEM) summer camp for rising eighth-grade girls. Through Tech Trek, girls are immersed in a world that empowers and encourages them to think about themselves as future scientists, engineers, mathematicians, and computer specialists.
The first Tech Trek camp was held in Washington State in July 2013 with four 7th grade girls from this area out of 56 attending the camp. Last year, eleven 7th-grade girls attended the Tech Trek Camp at Eastern Washington University. This is an inspiring and life-changing program for these girls. Please take the time to read more about the program at:

https://www.aauw.org/what-we-do/stem-education/tech-trek/
Funding for these campers comes from AAUW-WA, AAUW- Colville Branch, community organizations, local businesses and corporations, and individual donations. A special thanks Colmac Coil Mfg, Inc., Colville Valley Lions Club, Colville Kiwanis, Hewes Marine Co, Inc., John Ochs/Steve Cox Memorial Fund, Kettle Falls Lady Lions, Kettle Falls Rotary, Kiwanis Club of Chewelah, McGrane & Schuerman PLLC, Providence Health & Services, the Rotary Club of Colville, and 18 individuals, for their generous support. The cost for each camper is $1,000. If YOU would like to help make a difference in the life of a seventh-grade girl, please consider making a donation, large or small to this project. Please click on Contact Us in the upper right-hand corner for information regarding making a donation.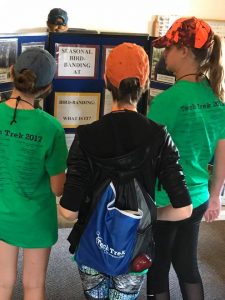 Tech Trek girls 2017!